Why
is
Amazon
Positioning
the
Echo
Show
as
a
Video
Communicator?
May 15, 2017
Last week Amazon's long-rumored new Echo, the Echo Show, was unveiled. Just as we had previously heard, the device boasts a 7-inch touchscreen in an effort to show you information when it's relevant. For example, if someone were to ask the Echo Show to order diapers, Amazon could show you a variety of options for you to choose from. It's a great strategy if you ask me because I truly believe that voice paired with visuals truly makes for a much better experience. Whether I want to order something, watch a short video, or even check the weather, having a display show me that information makes a whole lot of sense.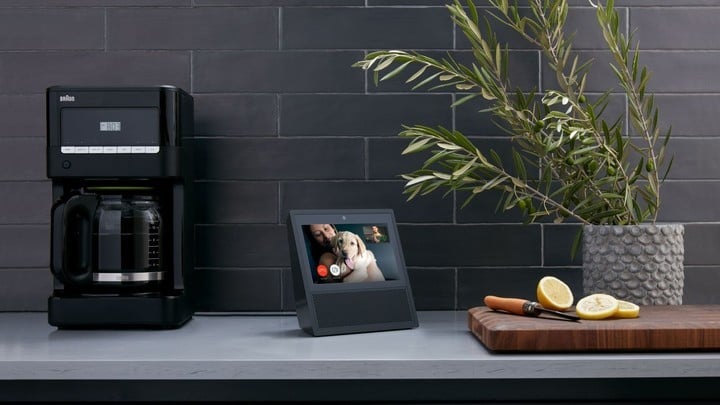 And while I don't think it hurts Amazon to put in a camera and add enable some video calling features, I don't quite understand why Amazon is putting so much emphasis on this feature, almost more than any of the other for features of the Show.
If you look the product page for the Echo Show, the first image is a video call being shown. In fact, if you look at all the images, two of the six images being shown are for the company's video calling feature, which is twice as much as any other feature. The company also highlights the hands-free video calls in the second bullet of the product.
Amazon is putting a lot of emphasis on the Echo Show's ability to do video calls.
"Introducing a new way to be together. Make hands-free video calls to friends and family who have an Echo Show or the Alexa App, and make voice calls to anyone who has an Echo or Echo Dot."
So, what am I getting at here? Do I think Amazon shouldn't be doing this? Do I think it's a waste of time? No, that's not how I feel. In fact, I applaud Amazon for doing this feature.
What I don't understand is why the company is putting so much focus on this feature so early on. Did they forget how popular and widely used FaceTime is?
Try to wrap your head around this: Every year, Apple is selling more than 200 million iPhones and more than 50 million iPads. That means that over 250 million devices that can do FaceTime are being sold every year. Do the math dating back to when FaceTime first made its debut (2010) and it's safe to say that there are over a billion devices that can do FaceTime today. To put that in perspective, since late 2014 when Amazon first debuted the Echo, it is estimated that the company has sold a total of 11 million Echo devices to date. 11 million compared to more than 1 billion iOS devices. Oh, and don't forget that FaceTime also works on Macs.
You can FaceTime on millions of devices
How is Amazon going to compete with that? Why would anyone who owns an iPad or iPhone buy this product specifically for doing video calls? It doesn't make sense to me. And yet Amazon seems bent on showcasing this feature so much.
What makes this even harder for me to understand is the fact that the Echo Show is not a mobile device. It's meant to sit there on your kitchen counter or on a side table, which means that you can't really take video calls wherever you are. Instead, you have to either run over to the room where it is or you'll likely miss the call.
Again, I'm not knocking the Echo Show as a product altogether. I think it's a great product at a great price and I think there are many great reasons to own one. I just don't understand why Amazon is putting so much emphasis on the video-calling feature, something that, to me, is going to be hard to crack, especially when hundreds of millions of iOS devices are being sold while the Echo device is just cracking 11 million nearly three years into its existence.
Perhaps there's a much bigger picture here and Amazon thinks they can really take on FaceTime. But to me, when you're competing against the smartphone, which is a must-have device, I'm not so sure you're going to win. If I'm Amazon, I still keep the video-calling feature, but I put way more emphasis on the skills and other things the 7-inch touchscreen offers. FaceTime isn't going anywhere.